Almighty KavirDev is the creator of infinite universes. He is Omnipresent and Omnipotent. The Seven-Sankh Brahamands of Akshar Purush and the twenty-one universes of Kshar Purush are also His creation. He created all souls with His word power who were leading a happy and prosperous life in the eternal world Satlok until they committed a blunder by forgetting the comfort provided by the father of all ie. Satpurush and got highly fascinated by butcher Brahm-Kaal for the tantrums he did in the divine land. Brahm-Kaal was expelled for his misconduct from Satlok and was cursed to eat grime of one-lakh subtle human bodies every day and produce 1.25 lakh every day. We all souls who were fascinated by Jyoti Niranjan-Kaal were also expelled along with him and Goddess Durga the wife of Satan Kaal. Since then we all are suffering in his 21 regions. The biggest pain to the soul is the vicious cycle of birth and rebirth.
God Kabir Saheb descends in all four ages in this deceased world to impart true spiritual knowledge to his misled children (souls) so that they may be liberated from the web of butcher Kaal. He provides virtuous souls the true salvation mantras. In the same context, the most venerable God acquiring the form of Jinda Baba came in Punjab on the bank of river Bein to meet virtuous soul respected Shri Nanak Dev Ji intending to liberate His beloved child. The dialogue held at that time between God Kabir Saheb and Nanak Ji has been scripted in Sachhidanandghan Brahm Vaani ie. Sukshma Veda; the nectar speech of God Kabir Saheb in pious Kabir Sagar which describes the true account that God Kabir Saheb met Nanak Dev Ji and gave him true spiritual knowledge. He took him to Sachhkhand and made him familiar with His creation then released the soul back into the body. Satpurush/Shabad Swaroopi Ram provided Nanak Ji the true salvation mantra –Satnam and Saarnaam chanting which Nanak Dev Ji attained emancipation.
Let us read the dialogue held between God Kabir and respected Shri Guru Nanak Dev Ji as is scripted in pious Kabir Sagar that was written by devotee Dharamdas Saheb Ji by the grace of Akaal Purush/Satpurush/Param Akshar Brahm -KavirDev.
Evidence of God Kabir & Guru Nanak Ji Dialogue in the Kabir Sagar
Ref: Kabir Sagar, Printer and Publisher is Khemraj Shri Krishandas, Director Shri Venkateshwar Press, Khemraj Shri Krishandas Marg, Mumbai- Chapter Swasambed Bodh, Bodh Sagar on page no 158-159.
Special Consideration:- There is evidence in the pious Sri Guru Granth Sahib that God Kabir Ji was Guru Ji of Shri Nanak Ji. Like Guru Granth is respectable and authentic, similarly, Holy Kabir Sagar is also respectable and authentic scripture and was written much before Shri Guru Granth Sahib. Therefore, around 4000 Bani has been taken into Guru Granth Sahib from Kabir Sagar only. There is a vivid description of the dialogue between God Kabir Ji and Nanak Ji in Kabir Sagar and that the venerable Gurudev of Nanak Ji was God Kabir Saheb.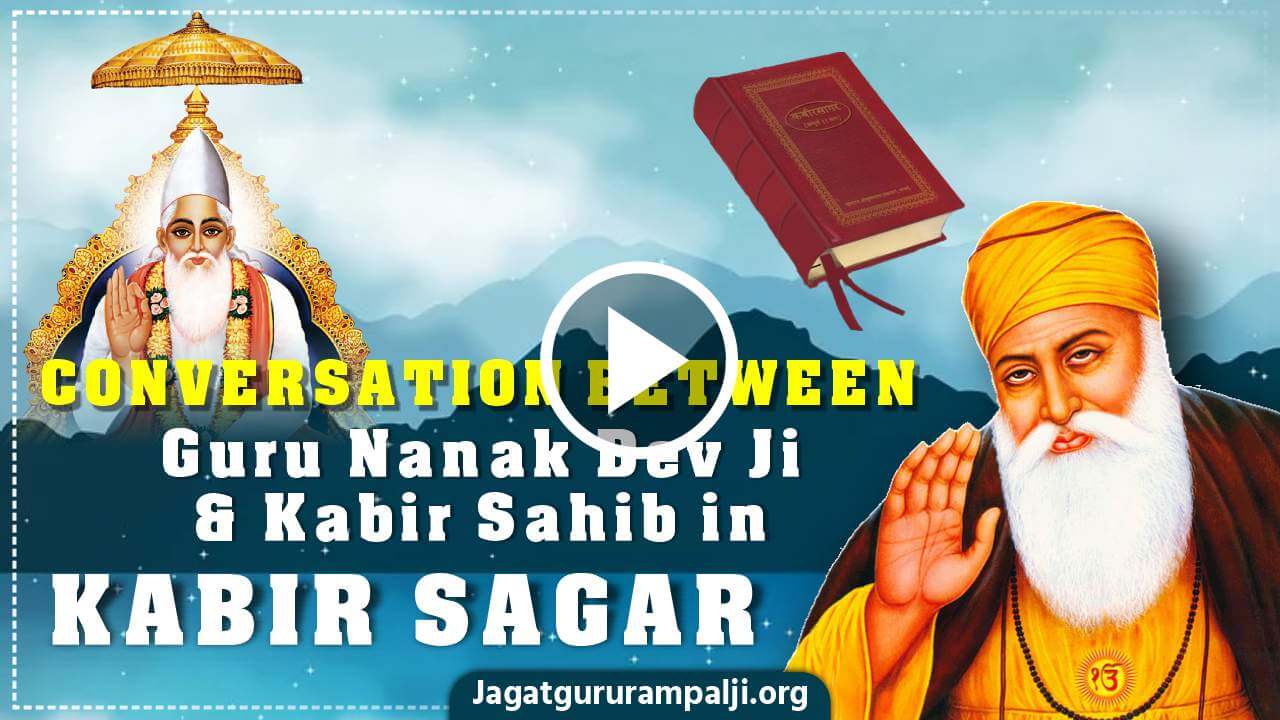 Please read below:- Excerpt from Kabir Sagar (Swasam bed bodh) Page no. 158 - 159:-
Jinda Speech
Nanakshah Kinha tap bhari | Sab vidhi bhaye gyan adhikari ||
Bhakti bhaav tako samijhaya | Tapar Satguru Kino daya ||
Jinda roop dharyo Tab bhai | Hum Punjab desh chali aayee ||
Anhad baani kiyo pukara | Sunikai Nanak darash Nihara ||
Sunike amar lok ki baani | Jaani para nij samrath gyani ||
नानकशाह कीन्हा तप भारी। सब विधि भये ज्ञान अधिकारी।।
भक्ति भाव ताको समिझाया। तापर सतगुरु कीनो दाया।।
जिंदा रूप धरयो तब भाई। हम पंजाब देश चलि आई।।
अनहद बानी कियौ पुकारा। सुनिकै नानक दरश निहारा।।
सुनिके अमर लोककी बानी। जानि परा निज समरथ ज्ञानी।।
Nanak Speech
Aava purush mahaguru gyani | Amarloki suni na baani ||
Arj suno prabhu Jinda swami | Kahan Amarlok raha nijdhami ||
Kahu na kahi amar nijbaani | dhanye Kabir Paramguru gyani ||
Koi na paave tumro bheda | Khoj thake Brahma chahun veda ||
नानक वचन (Nanak Speech)
आवा पुरूष महागुरु ज्ञानी। अमरलोकी सुनी न बानी।।
अर्ज सुनो प्रभु जिंदा स्वामी। कहँ अमरलोक रहा निजधामी।।
काहु न कही अमर निजबानी। धन्य कबीर परमगुरु ज्ञानी।।
कोई न पावै तुमरो भेदा। खोज थके ब्रह्मा चहुँ वेदा।।
Jinda Speech
Nanak tav bahute tap kina | Nirankar bahute din chinha ||
Nirankaarte purush ninaraa | Ajar dweep taaki taksara ||
Purush bichoh bhayo tav jabte | Kaal kathin mag rokyo tabte ||
It tav saris bhakt nahi hoi | Kyonki Parampurush na bheteu koi ||
Jabte hamte bichure bhai | Saath hajaar janam bhakt tum paayee ||
Dhari Dhari Janam Bhakti bhalkeena | Phir Kaal chakr Niranjan Deena ||
Gahu mam shabd to utro paara | Bin sat shabd lahe yam dwara ||
Tum bad bhakt bhavsagar aavaa | Aur Jeevki Kaun Chalava ||
Nirankar sab srishti bhulawa | Tum kari Bhakti lautee kyon aawaa ||
जिन्दा वचन (Jinda Speech)
नानक तव बहुतै तप कीना। निरंकार बहुते दिन चीन्हा।।
निरंकारते पुरूष निनारा। अजर द्वीप ताकी टकसारा।।
पुरूष बिछोह भयौ तव जबते। काल कठिन मग रोंक्यौ तबते।।
इत तव सरिस भक्त नहिं होई। क्यों कि परमपुरूष न भेटेंउ कोई।।
जबते हमते बिछुरे भाई। साठि हजार जन्म भक्त तुम पाई।।
धरि धरि जन्म भक्ति भलकीना। फिर काल चक्र निरंजन दीना।।
गहु मम शब्द तो उतरो पारा। बिन सत शब्द लहै यम द्वारा।।
तुम बड़ भक्त भवसागर आवा। और जीवकी कौन चलावा।।
निरंकार सब सृष्टि भुलावा। तुम करि भक्तिलौटि क्यों आवा।।
Nanak Speech
Dhanye purush tum yeh pad bhakhi | Yeh pad humse gupt keh rakhi ||
Jablon hum tumko nahi pavaa | Agam apaar bharm phelawaa ||
Kaho gosain humte gyana | Parampurush hum tumko janaa ||
Dhani Jinda prabhu purush purana | Birle jan tumko pahichana ||
नानक वचन (Nanak Speech)
धन्य पुरूष तुम यह पद भाखी। यह पद हमसे गुप्त कह राखी।।
जबलों हम तुमको नहिं पावा। अगम अपार भर्म फैलावा।।
कहो गोसाँई हमते ज्ञाना। परमपुरूष हम तुमको जाना।।
धनि जिंदा प्रभु पुरूष पुराना। बिरले जन तुमको पहिचाना।।
Jinda Speech
Bhaye dayal purush guru gyani | Diyo paan parwana bani ||
Bhali bhai tum humko pawa | Sakalo panth Kaal ko Dyawa ||
Tum itne ab bhaye ninara | Pheri Janm na hoye tumhara ||
Bhali surati tum hamko chinhaa | Amar mantr hum tumko dinha ||
Swasamved hum kahi nij baani | Parampurush gati tumhe bakhani ||
जिन्दा वचन (Jinda Speech)
भये दयाल पुरूष गुरु ज्ञानी। दियो पान परवाना बानी।।
भली भई तुम हमको पावा। सकलो पंथ काल को ध्यावा।।
तुम इतने अब भये निनारा। फेरि जन्म ना होय तुम्हारा।।
भली सुरति तुम हमको चीन्हा। अमर मंत्र हम तुमको दीन्हा।।
स्वसमवेद हम कहि निज बानी। परमपुरूष गति तुम्हैं बखानी।।
Nanak Speech
Dhanye purush gyani kartaara | Jeevkaaj prakate sansara ||
Dhani karta tum bandi chora | Gyan tumhaar mahaabal jora ||
Diya Naam daan kiya ubara | Nanak Amarlok pag dhara ||
नानक वचन (Nanak Speech)
धन्य पुरूष ज्ञानी करतारा। जीवकाज प्रकटे संसारा।।
धनि करता तुम बंदी छोरा। ज्ञान तुम्हार महाबल जोरा।।
दिया नाम दान किया उबारा। नानक अमरलोक पग धारा।।
Meaning:- Aforesaid dialogue explains that the most venerable God Kabir acquiring the form of a Jinda Mahatma went to Punjab (At that time Western Pakistan was a part of Punjab province) to meet pious soul Shri Nanak Dev Ji. The above-mentioned dialogue was held there between God Kabir and Nanak Ji. God Kabir is explaining to Dharamdas Ji that devout soul Nanak Ji used to do the intense worship of Kaal. When I met him in the form of Jinda Baba I (Kabir) provided his true spiritual knowledge. Listening to the sacred speech of Akal Purush Nanak Ji accepted that he was absolutely unaware of the eternal world. Even Shri Brahma Ji the knower of the knowledge of Vedas prostrates Param Akshar Purush.
God Kabir Saheb told Nanak Ji that if a pious soul like you is bearing the sufferings of life and death, then what hope does a common man have?. The Supreme God is different from the one you are worshipping and considering formless. I am that God.
■ Also Read: Who is the Supreme God & What does He look like
Ever since you have separated from me, you have attained 60,000 births, some with very good high posts like that of pious soul King Ambrish in Satyug, King Janak (Father of Sita Ji) in Treta Yuga, and in Kalyug you have become Shri Nanak Sahib. Even then you are in the cycle of life and death. Niranjan has misled all souls by making them do arbitrary worship. Had your worship be correct ie. scriptures based, why would you have to come again on this earth? (Means why rebirth?). I will tell you the Jaap of Satshabad i.e. Sat Naam / Sacha Naam Mantra through which you will become eternal. Shri Nanak Ji said to God Kabir that you are Bandichhor God and only a rare fortunate individual can identify you.
Conclusion
The dialogue held between God Kabir Saheb and Shri Nanak Dev Ji that is scripted in pious Kabir Sagar provides a clear indication of the fact that pious four Vedas Rigveda, Atharvaveda, Samveda, and Yajurveda were initially provided to Jyoti Niranjan which came out during the destined duration from within him. He read them and noticed that these Vedas contain information about Akaal Purush and glorify Him. Also, pious Vedas contain information on How to attain God? Fearful Brahm-Kaal thought that if the souls will read these they will do true worship and will be liberated from my web therefore, he hid them into the ocean and destroyed those relevant portions that contain the information about Who is God? To fulfill that gap, to impart true spiritual knowledge (mentioned in Sukshma Veda) and to provide emancipation to mislead souls, God Kabir comes to the region of Kaal. He provides them true salvation mantras. The same; God did for respected Shri Nanak Dev Ji. He made him familiar with Tatvagyan and gave him Satnam and Sarnaam chanting which Nanak Ji attained Salvation.
The same Jinda Baba/Akaal Purush/God Kabir Saheb has descended yet again in the holy land of India in the form of Tatvadarshi Sant Rampal Ji Maharaj. He is Almighty KavirDev. Come take refuge and get the complete course of emancipation and attain God. God has been wandering for ages for the welfare of mankind. This is high time to get your welfare done.