Guru of Guru Nanak Dev Ji - "Baba Jinda" (From Janam Sakhi - Bhai Bala)
(Evidence in Bhai Bale Wali - JANAM SAKHI - Shri Guru Nanak Dev Ji). Publishers: Dr Jwahar Singh Kripal Singh & Co. Amritsar
Topic: Siddhan Naal Goshti hoi - ਸਿਧਾਂ ਨਾਲ ਗੋਸ਼ਟੀ ਹੋਈ
Page 252: Agge sakhi hor challi - ਅੱਗੇ ਸਾਖੀ ਹੋਰ ਚੱਲੀ
ਫੇਰ ਮਰਦਾਨਾ ਪੁਛਿਆ ਜੀ ਤੁਸਾਨੂੰ ਜੋ ਗੁਰੂ ਮਿਲਿਆ ਸੀ ਉਸਦਾ ਨਾਊਂ ਕਿਆ ਹੈ? ਤਾਂ ਗੁਰੂ ਨਾਨਕ ਜੀ ਕਿਹਾ ਮਰਦਾਨਾ ਉਸਦਾ ਨਾਊਂ ਬਾਬਾ ਜਿੰਦਾਂ ਆਖਦੇ ਹੈਨ, ਜਹਾਂ ਤੋੜੀ (ਤਕ) ਜਲ ਅਰ ਪਉਣ ਹੈ, ਉਸਦੇ ਹੁਕਮ ਵਿੱਚ ਚਲਦੇ ਹਨ। ਅਤੇ ਅਗਨਿ ਅਰ ਮਿੱਟੀ ਏਹ ਭੀ ਉਸਦੇ ਆਖੇ ਕਿਚ ਹੈਨ। ਜਿਸ ਤਾਈਂ ਬਾਬਾ ਜਿੰਦਾਂ ਮਿਲੇਗਾ ਉਸ ਤਾਈਂ ਬਾਬਾ ਆਖਣਾ ਚਾਹੀਏ, ਹੋਰਸ ਤਾਈਂ ਬਾਬਾ ਨਾਹੀਂ ਆਖਣਾ ਤਾਂ ਮਰਦਾਨੇ ਕਿਹਾ ਗੁਰੂ ਜੀ ਅਸੀਂ ਭੀ ਤਾਂ ਤੁਹਾਡੇ ਨਾਲ ਹੀ ਫਿਰਦੇ, ਆਹੇ ਤੁਸਾਨੂੰ ਕਦ ਮਿਲਿਆ ਹੈ ਤਾਂ ਗੁਰੂ ਨਾਨਕ ਜੀ ਕਿਹਾ ਮਰਦਾਨਾ ਅਜੇ ਤੂੰ ਅਸਾਂ ਥੀਂ ਨਹੀਂ ਆਯਾ ਸੇਂ ਜਦ ਅਸੀਂ ਮਿਲਣ ਗਏ ਸੇ, ਤਾਂ ਮਰਦਾਨੇ ਕਿਹਾ ਜੀ ਕਦ ਗਏ ਸੌਂ, ਤਾਂ ਗੁਰੂ ਜੀ ਕਿਹਾ ਜਦ ਸੁਲਤਾਨਪੁਰ ਵਿੱਚ ਤੁਬਕੀ ਲਾਈ ਸੀ ਤਬ ਮਰਦਾਨਾ ਅਸੀਂ ਤਿੰਨ ਦਿਨ ਓਸੇ ਪਾਸ ਰਹੇ ਸੇ ਮਰਦਾਨਾ ਭਾਈ ਬਾਲਾ ਜਾਣਦਾ ਹੈ ਮਰਦਾਨਾ ਓਹ ਐਸਾ ਗੁਰੂ ਹੈ ਜੋ ਜਿਸਕੀ ਸੱਤਾ ਸੰਪੂਰਨ ਜਗਤ ਨੂੰ ਆਸਰਾ ਦੇ ਰਹੀ ਹੈ ਅਤੇ ਮਰਦਾਨਾ ਜਿੰਦਾਂ ਉਸਨੂੰ ਕਹਿੰਦੇ ਹਨ ਜੋ ਕਾਲ ਦੇ ਵਸ ਨਾ ਆਵੇ, ਹਥੋਂ ਕਾਲ ਉਸਦੇ ਵਸ ਹੋਸੀ, ਤਾਂ ਮਰਦਾਨਾ ਕਿਹਾ ਜੀ ਉਸਦਾ ਰੰਗ ਕਿਆ ਹੈ ਅਤੇ ਉਸਦਾ ਆਸਨ ਕਿਥੇ ਹੈ ਤਾਂ ਗੁਰੂ ਜੀ ਕਿਹਾ ਉਸਦਾ ਰੰਗ ਲਾਲ ਹੈ ਪਰ ਉਸ ਲਾਲੀ ਨਾਲ ਕੋਈ ਲਾਲੀ ਮਿਲਦੀ ਨਾਹੀਂ ਅਤੇ ਉਸਦੇ ਰੋਮ ਸਵਰਨ ਦੇ ਰੰਗ ਦੇ ਹੈਨ ਪਰ ਉਨਾਂ ਦੇ ਨਾਲ ਸੋਨਾ ਭੀ ਦੱਖ ਨਹੀਂ ਦੇੰਦਾ ਤੇ ਰਸਨਾ ਥੀਂ ਬੋਲਦਾ ਭੀ ਨਾਹੀਂ ਅਤੇ ਰੋਮ ਰੋਮ ਥੀਂ ਮਰਦਾਨਾ ਏਹੋ ਸ਼ਬਦ ਹੋ ਰਿਹਾ ਹੈ, ਗਹਿਰ ਗੰਭੀਰ ਗਹਿਰ ਗੰਭੀਰ ਤਾਂ ਮਰਦਾਨੇ ਕਿਹਾ ਧੰਨ ਹੋ ਗੁਰੂ ਜੀ ਤੁਸਾਂ ਬਿਨਾਂ ਏਹ ਨਿਸ਼ਾ (ਸ਼ੰਕਾ / doubt) ਅਸਾਡੀ ਕਉਨ ਕਰੇ ਤਾਂ ਮਰਦਾਨੇ ਆਖਿਆ ਗੁਰੂ ਜੀ ਹੁਣ ਸਮੇਰ ਉਪਰ ਚਲੋ ਤਾਂ ਗੁਰੂ ਜੀ .....
Transliteration: fer mardana puchiya ji tusanu jo guru milia si usda naam kiya hai? Ta Guru Nanak ji keha mardana usda naam Baba Jinda aakhde hain, jahan todi jal aur pawan hai, usde hukum vich chalde han. atey agni aur mitti eh bhi usde aakhe kich hain. jis taiin baba jinda milega us taiin baba aakhna chahiye, horas taiin baba nahin aakhna ta mardane keha guru ji asi bhi tuhade naal ji firde, aahe tusanu kad milia hai ta Guru Nanak Ji keha mardana ajje tu assa thi nahin aaya se jad asi milan gae se, ta mardane keha ji kad gaye so, ta guru ji keha jad sultanpur vich tubki layi se tab mardana asi tin din ose paas rahe se mardana bhai bala jaan-da hai mardana oh aisa guru hai jo jiski satta sampurn jagat nu aasra de rahi hai atey mardana jinda usnu kehnde han jo kaal de vas naa aavey, hathon kaal usde vas hosi, ta mardana keha ji usda rang kya hai atey usda aassan kithe hai ta guru ji keha usda rang laal hai par us lali naal koi lali mildi nahin atey usde rom swarn de rang de hain par unah de naal sona bhi dakh nahin denda de rasna thi bolda bhi nahin atey rom rom thi mardana eho shabad ho reha hai gehar gambhir gehar gambhir ta mardane kehi dhan jo guru ji tusaan binaa eh nisha asadi kaun kare ta mardane aakhiya guru ji hun smer upar chalo ta guru ji .....
Hindi: फिर मरदाने ने पूछा जी जो आप को गुरु मिला था उनका नाम क्या है? तब गुरु नानक जी ने कहा मरदाना उनका नाम बाबा जिंदा है। जहां तक जल और पवन है, उसके हुकुम में चलते हैं। और अग्नि और मिट्टी भी उसके हुकुम में हैं। जिसको बाबा जिंदा मिलेगा उसको बाबा बोलना चाहिए, और किसी को बाबा नहीं कहना चाहिए। तब मरदाने ने कहा गुरुजी हम तो आपके साथ ही फिरते हैं, फिर आपको वो कब मिला है। तब गुरु नानक जी ने कहा मरदाना जब हम उनसे मिलने गए थे उस वक्त तुम हमे नहीं मिले थे। तब गुरु जी ने कहा जब हमने सुल्तानपुर में डुबकी लगाई थी तब मरदाना हम तीन दिन उसके पास रहे थे। मरदाना वो ऐसा गुरु है जिसकी सता सम्पूर्ण जगत को सहारा दे रही है और मरदाना जिंदा उसको कहते हैं जो काल के वश ना हो बल्कि काल उसके वश होता है। तब मरदाने ने कहा जी उसका रंग क्या है और उसका आसन कहाँ है। तब गुरु जी ने कहा उसका रंग लाल है पर उस लाली से कोई भी लाली मिलती नहीं है और उसके रोम स्वर्ण के रंग के हैं पर उसके साथ सोना भी मेल नहीं खाता। और जुबान से बोलता भी नहीं और रोम रोम में येही शबाद हो रहा है गहर गंभीर गहर गंभीर तब मरदाने ने कहा धन्य हो गुरु जी आपके बिना ये हमारी शंका कौन करे तब मरदाने ने कहा गुरु जी अब सुमेर ऊपर चलो तब गुरु जी .....
The above mentioned excerpt from Bhai Bale Wali proves that Guru Nanak Dev ji met a Guru in Jinda form whom Guru Nanak Dev Ji addresses as "Baba Jinda". He further says that, that Guru is the Master of all and He is not under the subjugation of Kaal. Rather Kaal is under him. Guru Nanak Dev ji says that he remained with that Guru for 3 days after taking a dip in river Bein at Sultanpur.
Video - Bhai Bale Wali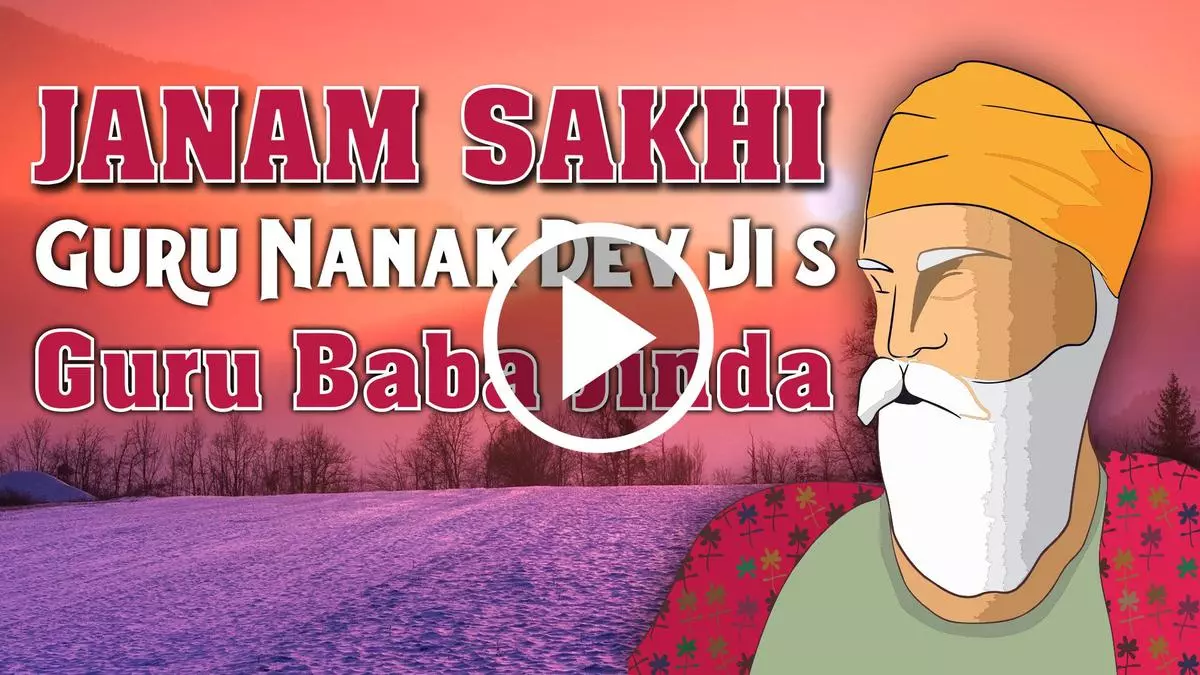 ---
FAQs about Guru of Guru Nanak Dev Ji - Janam Sakhi - Bhai Bala
Q.1 Who is the first guru of Guru Nanak?
Shri Nanak Dev ji considered Kabir Saheb as His first and last Guru because after attaining Him he gained the wealth of true spiritual knowledge by which he could attain salvation which was important for him.
Q.2 Who is the first Sikh Guru?
Q. 3 Did Guru Nanak worship Ram?
No, Shri Nanak worshiped God Kabir as instructed by Kabir Saheb to Him. Before coming into His refuge Shri Nanak Dev ji used to worship Brahma, Vishnu and Mahesh as there were popular in the society.
Q.4 Which is the oldest religion in the world?
The first ever religion a human being and a pious soul should practice is humanity. As per the orders of Supreme God Kabir humanity is the biggest religion, rest all religions are man made.
Q.5 Are Sikhs Vegetarian?
As per Holy Guru Granth Sahib ji, there are no orders for Sikhs to consume non vegetarian food, hence Sikhs should be vegetarian.
Q.6 Is Guru Nanak an avatar?
Shri Nanak Dev ji is just a messenger of God. People confuse it with an avatar and God which is wrong. Currently Sant Rampal Ji Maharaj is the only Tatvdarshi Sant to understand true spiritual knowledge.
Q.7 What does Guru Nanak call God?
Guru Nanak ji called God by various names that includes Satpurush, Akaalpurush, Parvardigar, Waheguru.
Q.8 What is banned in Sikhism?
Consuming meat, alcohol, intoxication, gambling, corruption, cheating and exchange of dowry is banned by the orders of Shri Nanak Dev ji and as well as in the Constitution of God Kabir as followed by Shri Nanak Dev ji.
Q.9 Did Sikh gurus eat meat?
As per Holy Guru Granth Sahib ji, there are no orders of consumption of meat still Sikh people are seen consuming meat and alcohol in their routines which should be stopped.
Q.10 Which language did Guru Nanak speak?
Shri Nanak ji used to speak punjabi as their main language.
---