Rabia Basri was a Muslim saint also known as Hazrat Bibi who hailed from a tribe in Basra, Iraq. She was a pious soul whom Almighty Kavir Dev (Allah Kabir) had met and blessed with true worship practice following which she attained complete salvation. We will share the real story of Rabia Basri (a pious Muslim devotee) in this article and highlight the importance of true worship through which complete salvation is attained.
What is the Real Story of Rabia?
Every soul has come from Satlok (Eternal Place) to the region of Kaal (Devil / Satan) due to their own fault. In Satlok there is no old age (Jara) and death and hence no suffering. There is complete happiness over there. Without doing anything, all the facilities which are not even available in the 'Heaven' and 'Great Heaven' in Kaal's region (Lok) are available to every 'Hans Aatma' (soul) in Satlok, absolutely free. Whereas all the happiness and facilities in Kaal's region in the 'Heaven' and 'Great Heaven' (Brahmlok) are paid. They are provided in return for the earnings of the seeker. The rate is according to the self-will of Kaal. 25% commission is separate. The biggest difference is that there is no death in 'Satlok'. Whereas death in Kaal's region is imminent, which is bad. Even worse than death is the 'old age', which does not befall in 'Satlok'.
Before beginning with the real story of Rabia, let us first give you an overview of a few earlier births of the same soul Rabia. The focus of the write-up will be on the following:
Let us proceed and learn what were the Previous Births of Rabia Basri?
What were the Previous Births of Rabia Basri?
Ref: Part of the sacred speech of great Sant Garibdas Ji Maharaj. The writer is great Sant Rampal Ji Maharaj. The name of the book is ' MuktiBodh', chapter 'Parakh ke Aang Ka Sarlarth' on page 205-209.
The soul of Rabia Basri in 'Kalyug' was that of 'Deepika' in 'Satyug' who was the wife of sage 'Gangadhar' who managed to enhanced her "karma" by raising Almighty KavirDev who in 'Satyug' had appeared to play a divine spectacle in the form of a child. The same soul of sage 'Gangadhar' took birth in Treta Yuga by the name of sage 'Vedvigya' and the same soul of 'Deepika' took birth by the name 'Surya'. She got married to sage 'Vedvigya'. In Treta Yuga, Almighty KavirDev remained present in the form of sage 'Munindra'.
In 'Treta Yug', Almighty KavirDev, playing a spectacle, appeared in a child form on a lotus flower similar to how he appeared in 'Satyug'. Sage 'Vedvigya' who was childless at the time brought Almighty KavirDev in the child form to his house. Then his wife 'Surya' by raising and serving the child-form Almighty KavirDev managed to ehance her auspicious deeds. This same soul of 'Deepika' took birth as a girl by the name of 'Rabia' in Kalyug in Muslim religion.
Rabia was steadfast in the worship of God Kabir. She had even refused to get married because Satguru KavirDev Ji had met that pious soul in a forest in the form of 'Zinda Baba' when she had gone to fetch cattle feed along with other female companions. Almighty Kavir Dev had made a small pond (Johadi) with his power in the same forest. He made a small garden around it, also a hut. He sat there in the form of a 'Zinda Baba'. While haying, the girl went on to that side alone. She got influenced by seeing a righteous person and she greeted him by saying ' Salaam Valekum'. She then requested to listen to his sermons / knowledge.
Lord Kabir preached to her for an hour. He told her about the creation of nature. The girl felt inspired. She requested for name initiation. Satguru said 'Daughter! listen to the knowledge for two more days then I will give you name (mantra). But do not tell about me to anyone else that some 'Baba' resides here'. The girl went alone there for two more days and listened to the spiritual knowledge and took initiation. Then she went home. God had told her that 'now, I will leave from here, you do not stop worshipping'. The girl continued worshipping for four years as told by God. Later on, due to the lack of discourses, she abandoned the true worship and started practicing according to her Muslim religion. By then she had turned 16 years old.
Marriage of Rabia Basri
Rabia was very affectionate to God, to an extent that she refused to get married. Her parents were firm to get her married. The girl also remained rigid. The parents said that 'a young girl cannot be kept at home. If you will not agree to us then both of us will commit suicide. We give you time for four days. Think and tell us'. Rabia realised the situation of her parents and agreed. She contemplated that she would agree to marry but will request her husband that she will not take part in the act of procreation as her aim is to worship and get her welfare done. She rather would ask her husband to get married to someone else but if he disagrees then she would end her life. Thinking this, the girl gave acceptance for marriage to her mother and father. She got married to an officer.
That Muslim officer was God-fearing but he did not do any particular worship. After marriage, during the night time, the husband asked Rabia for union to which she strongly declined. She told him that she wants to do worship. She said, "If you want, you may get re-married. Get me a cottage constructed in your courtyard, I will survive". Fearing God, and with decency, the husband said to Rabia, "if you did not intend to have union with a man i.e. you didn't want to bear children, then why did you agree to get married?". Rabia said, "I agreed to marry to save the honor of my parents. They had decided to die. Due to the fear of society they were ready to give up their lives. Therefore, I agreed. If you will force me for the union, I will commit suicide. This is my final decision".
The husband said 'Rabia Basri ! this is good, that you are committed to God but my mother and father also have respect in the society. Listen to my decision also. You will not leave the house without permission. Do your worship. In the eyes of the society, you will remain my wife but to me you will be like a sister. I will not let you have shortage of anything, you continue to worship. I will also benefit by serving you. I will get married to somebody else. Then he got married to someone else and kept Rabia as his sister. He took good care of all her facilities.
Rabia Basri – An Inspirational Story
The history of Rabia Basri reveals that she was a pious soul, a God-fearing soul.
Ref: Sacred speech of Garibdas Ji in 'Achla ke Aang' page 363-368, in the book 'MuktiBodh'on page 205
Garib, Rabi ku satguru miley, deena apna tej, byahi ek sahab se, bibi chadhi na sej
Garib, Rabi maccey ku chali, dhara Al-haq ka dhyan, Kutti ek pyasi khadi, chhutey jaat hai praan
Garib, Kesh upare sheesh ke, baati rassi been, jaakey vastra bandhi kar, jal kaadhya prabeen
Garib, Sunahi ku paani piya, utri aras aawaz, teen manzil mecca gaya, bibi tumhrey kaaj
Garib, Bibi makkey par chaddhi, Rabi rang apar, ek lakh assi jahan, dekhey sab sansar
Garib, Rabi patra ghal kar, kiya jahan snan, ek lakh assi bahe, mangar malyaa Sultam
When Rabia Basri was around 55 - 60 years old she decided to go for 'Haj' according to the religious tradition in the Muslim religion. She expressed the desire to her husband, alias her sworn brother to which he easily gave acceptance. Rabia was sent along with other people of the village. While everyone was walking, they noticed a well on the way. It did not have the necessary equipment like a rope and bucket to pull the water out. It seemed as if the bucket had fallen into the well by some passerby traveller's mistake. A bitch stood next to it thirsty.
Humble soul Rabiya understood that the bitch was thirsty. It seemed as if her puppies were also nearby who hadn't started walking yet. Fellow Haj pilgrims expressed a desire to drink water but due to non availability of rope and bucket, they moved on. They knew that there was a well 3 km ahead. Wells had been built for Haj pilgrims at regular intervals.
Fellow pilgrims moved on. They did not pay attention to Rabia because she had gone to search for a rope and a bucket. However Rabia did not find anything to get water out of the well. She was compassionate and God-fearing. Impressions of auspicious deeds of her previous lives were overpowering. She plucked her hair from her head and tied them to form a long rope. She took off her clothes and tied them to the rope she made from her hair and immersed it into the well and quickly pulled it out. She squeezed the water from the clothes on to a piece of a broken earthen pot which was lying near the well. Probably when rope and bucket were available, travellers used to fill that earthen pot for the dogs / bitches and other small animals for them to drink water. With the same desire, the bitch near the well was touching Rabiya's feet and in between glancing at the well. Rabia gave water to the thirsty bitch. The bitch quenched her thirst. Rabia wrung and dried her clothes. With water she cleaned the blood which had smeared her body after she had plucked her hair. She wore her clothes and planned on moving ahead.
It has been said in the sacred speech of Garibdas Ji Maharaj:
Rabia rangi Hari rang me, Kaisi jeev daya tarsaai.
Kesu khaa devas taru taare, Sun hiki pyaas bujhaai.
Manzil teen mecca le aai, Vo bhi reh gyi vaarhi |
Let us move ahead and know more about the pious soul Rabia.
Miracle that happened with Rabia Basri
As Rabia planned on moving ahead to Mecca, the Mosque of Mecca which was approximately 60 miles away flew from its original place and came and stood beside the well. Seeing Mecca, Rabiya got surprised as if it was a dream. At that very moment, there was a celestial announcement (Aakashvaani), "Oh devotee! Mecca has traveled 60 miles via the sky, just for you. Please enter inside". Rabia entered the Mosque of Mecca. She had come with this intention only.
Great Sant Garibdas Ji says in his sacred speech in verse 56, 57;
Garib, Sultani Mecca gaye, mecca nahi mukam
gaya Raand ke len ku, kahey adham sultan |
Garib, Rabia parsi rabasyun, Mecca ki aswaari |
Teen manzil Mecca gya, Bibi ke deedar |
On the other hand, the soul of Ibrahim Adham Sultan had taken birth as a human in the Muslim religion at the time. He too had also gone to Mecca. Almighty Kavir Dev (Allahu-Akbar) had met him and had told him the true spiritual knowledge. Allahu-Akbar had given him initiation too. Ibrahim adham used to visit Mecca every year to give the true spiritual knowledge to the innocent misled people. When the Mosque of Mecca flew from its original place then, other people suspected something paranormal. They started discussing with each other about the whereabouts of Mecca and called it Allah's miracle. Ibraham said ' Mecca has gone to pick a whore'. This Mecca is a home. Allah is not in this. Allah is up in the sky. Being a Muslim no one opposed Ibraham.
In the meantime, Mecca flew and came back to its original place and stood still. It was told that it had gone to pick a pious soul Rabiya. Everyone started looking at her and praised her worship. Ibraham was questioned 'why did you speak ill about such a pious soul?'. You will be a sinner'. Then Ibraham told that Allahu-Akbar had met this pious soul in the form of 'Zinda baba'. She took initiation but worshipped only for 4 years. Then she started doing arbitrary worship. With the power of that worship, she gained the courage to perform such a bold act. To quench the thirst of a bitch she plucked her hair, prepared a rope from it, with the help of her clothes, she took water out from the well with the help of that rope, gave water to a thirsty bitch and saved her life. Therefore, Allahu-Akbar did this miracle'. When Rabiya was asked to confirm, she said the same. When Rabiya took bath then Ibrahim Sultan Adham helped that pious soul in washing the blood from her waist.
There have been 1,80,000 Prophets. Allah did not do a miracle for anyone. All of them seem tiny in front of Rabia. God only blesses true devotees.
Note: In spite of being a true and firm devotee, the soul of Rabia could not be liberated. She remained in the vicious cycle of birth and rebirth. This proves that with the arbitrary worship, complete salvation can never be attained. Let us highlight a few more births of the pious soul Rabia.
Rebirths of Rabia Basri
Great Sant Garibdas Ji further tells in his sacred speech in verse 58, 59
Garib, fir Rabia Bansuri bani, Mecca chdhaya sheesh |
purbale sanskaar kutch, dhani Satguru jagdeesh |
Garib, Bansuri se Vaishya bani, shabad sunaya raag |
Bahuri Kamali putri, jug jug tyaag bairag |
After completing that human life of Rabiya, the same soul in the second birth was born in a Muslim religion again as a girl and was named 'Bansuri'. She was very spiritual and always used to glorify the Lord. She was a singer who used to sing religious songs. She used to do the traditional worship of the Muslims religion. There is a belief in Muslim religion that if someone dies in Mecca then he / she directly goes to Heaven. Bansuri thought what better a person can do than leaving their body in Mecca and attaining heaven. She went to Mecca during the 'Haj'. She severed her head and offered it there and ended her life. The entire Muslim community started discussing this and said that this is the Real Sacrifice.
The same soul of Rabiya gave up her human body in the birth of Bansuri in Mecca and in her third human birth she led a sinful life of a harlot.
Rabia se bhyi Bansuri, Fir vaishya khyaal banaya
Vaishya se fir bhyi Kamali, Tab tera hi sharna chahya
Sharan teri me aanand aaya, thi pyaasi deedar ki!
After completing the human life of 'Bansuri' the same soul of 'Deepika / Surya / Rabia' took fourth human birth. She was born as the daughter of a Muslim Peer named, Sheikh Taki, who was the spiritual guru of Delhi's King, Sikandar Lodhi. When the daughter of Sheikh Taki was 13 years of age she died. She did not have virtuous deeds pending to allow her another human life. She was destined to get the life form of a bird or an animal.
Almighty Kavir Dev Ji restored her to life after getting her exhumed. He increased her age and brought her up as his daughter. God gave her the true worship and initiation and liberated her. Let us study what happened and how Almighty Kavir Dev Restored Life of 'Kamali'
Almighty Kavir Dev Restored Life of Rabia Alias Kamali
Ref: Pious Kabir Sagar
600 years ago Almighty KavirDev played the divine spectacle of a weaver in Kashi, U.P. He did a lot of miracles and blessed people. There was a Muslim religious guru called Sheikh Taki.
Sheikh Taki was extremely jealous of Lord Kabir as many people became His disciples, including the King Sikander Lodhi himself. He misguided the public by saying, "Kabir is a magician. By showing these magical tricks he has fooled King Sikander". He convinced all Muslims to support him and innocent Muslims agreed to him. Sheikh Taki said we will accept 'Kabir is God' only if he will restore the life of my dead daughter who is buried in a grave. He said, 'I will accept that 'Kabir is Allah'. Kabir Saheb Ji agreed. The information was disseminated everywhere. A day was decided and a thousand people gathered to have a glimpse of the pious soul.
The grave in which the daughter of Sheikh Taki was buried was dug. Kabir Saheb told Sheikh Taki that first, you try to revive the corpse of your daughter. All the people who were present there said 'if Sheikh Taki would have power then he would have not let her daughter die. To save the life of the child every person makes all his efforts. 'Oh merciful! you kindly shower grace'. Almighty Kavir Ji said 'O the daughter of Sheikh Taki! come back to life'. He said this three times but the girl's life was not restored. Seeing this, Sheikh Taki started dancing saying that the hypocrisy of a hypocrite has been caught. This was the spectacle of Kabir Sahib. He wanted Sheikh Taki to do melodrama in front of people.
Lord Kabir Ji says;
Kabir, Raaj tajna sehaj hai, Sehaj tariya ka neh,
Maan badhaai Irshya, Durlabh tajna ye!
Prestige and jealousy have disastrous consequences. Sheikh Taki was not sad seeing his daughter's life not being restored; rather he was enjoying the defeat of Lord Kabir. This is the downturn caused by these two traits.
Kabir Saheb Ji told Sheikh Taki, 'sit down you priest, maintain silence'. Lord Kabir then said, 'O Pious soul! with Kabir's command, wherever you are, get inside this body and come out of this grave'. As soon as Lord Kabir uttered these words, the dead body started shivering and the girl's life was revived. She came out from the grave and prostrated to Lord Kabir. With the grace of Lord Kabir, the girl preached for one and a half hours about the mercy of Kabir Saheb.
She said 'O innocent people! God has come. He is Complete Brahm, the owner of infinite universes. The one you see as an ordinary weaver, is actually God? 'O the lost and misguided human beings! He is God standing in front of you, bow to him, be on your knees, prostrate and get yourself relieved from the long illness of birth and death and let us all go to Satlok, going where the soul does not come back to this world'.
Kamali told that no one apart from 'Bandichor Kabir Saheb' can relieve you from the trap of Kaal. No religious practice in any religion can relieve soul from the trap of Kaal be it the Hindu way of worship like keeping fast, pilgrimage, reciting Bhagavad Gita, Ramayana, Mahabharata, Purana, Upanishads, Vedas, Lord Ram, Shri Krishna, Brahma, Vishnu, Shiva, Durga- Sherawali (Bhavani, Prakriti Devi) or be it the worship of Jyoti Niranjan, no one can relieve the soul from the sufferings in 84 lakh life forms, neither this can happen by the religious practices of Muslim religion like keeping Roza, celebrating Eid or Bakra-Eid, praying five times 'Namaz' a day, going to Mecca-Madina, giving 'Bang' in the Mosque; all this is useless. Addressing all the people present there, Kamali also narrated the account of her earlier human births.
Then, Kabir Saheb told Kamali 'Daughter! you go along with your father'. Kamali said 'Lord Kabir you are my true father he is my fake father. He had buried me in the grave, our account is neutralized'. All the people present there glorified Almighty Kabir Saheb saying 'he did an amazing feat (Kamaal)' which is why the girl was named, 'Kamali'.
Kabir Saheb brought up the girl as his daughter. He gave her initiation. She followed the correct path of worship as given by Lord Kabir Ji and attained complete salvation. She got rid of the vicious cycle of birth and rebirth and reached the immortal land 'Satlok' where there is eternal peace.
Sheikh Taki was highly embarrassed that his Lordship had been lost.
Lord Kabir Ji says;
Jo jann meri sharan hai, Taaka hu mai daas
Gail gail laagya phirun, Jablag dharti aakash
Note: If once, any soul comes into the refuge of Lord Kabir Ji in any age (yuga) then God always remains with that pious soul, and by providing true spiritual knowledge, He ensures that the soul is liberated. The soul of Deepika came in the refuge of Almighty Kabir Ji earlier in Kalyug but her worship remained incomplete. Hence, God followed that pious soul in his every human birth till the Bhakti Era came in next Kalyug and liberated His dearest soul in the human birth of Kamali.
Lord Kabir Ji says;
Jyo baccha gau kinazar me, so saai ko sant
Bhagton ke peeche phiren, vo bhagat vatsal bhagwant
God says: As a cow always keeps an eye on her calf to assure that her calf is safe, consider the saint to be similar. Because of a true saint i.e. God continuously follows his dear devotee soul. Rabia's real story is an example that God keeps an eye on his devotees and provides true worship by which they attain complete salvation.
Points to Ponder
There is birth and rebirth in the 21 universes of Brahm - Kaal. The same soul of Rabia took several births.
Souls are trapped in Kaal's web hence, they suffer a lot based on their deeds.
The religious practices followed in all religions are not correct since salvation is not attained and creatures remain in recurrence.
Only the true worship of Almighty KavirDev can help souls attain the eternal immortal abode ie. 'Satlok'.
Conclusion
600 years ago Almighty Kabir Ji himself came and played the divine spectacle of a weaver in Kashi, U.P. and blessed 64 lacs, innocent souls, with true worship. Rabia Basri was one such pious soul who after several births got complete salvation in the human birth of Kamali. God gave her true worship.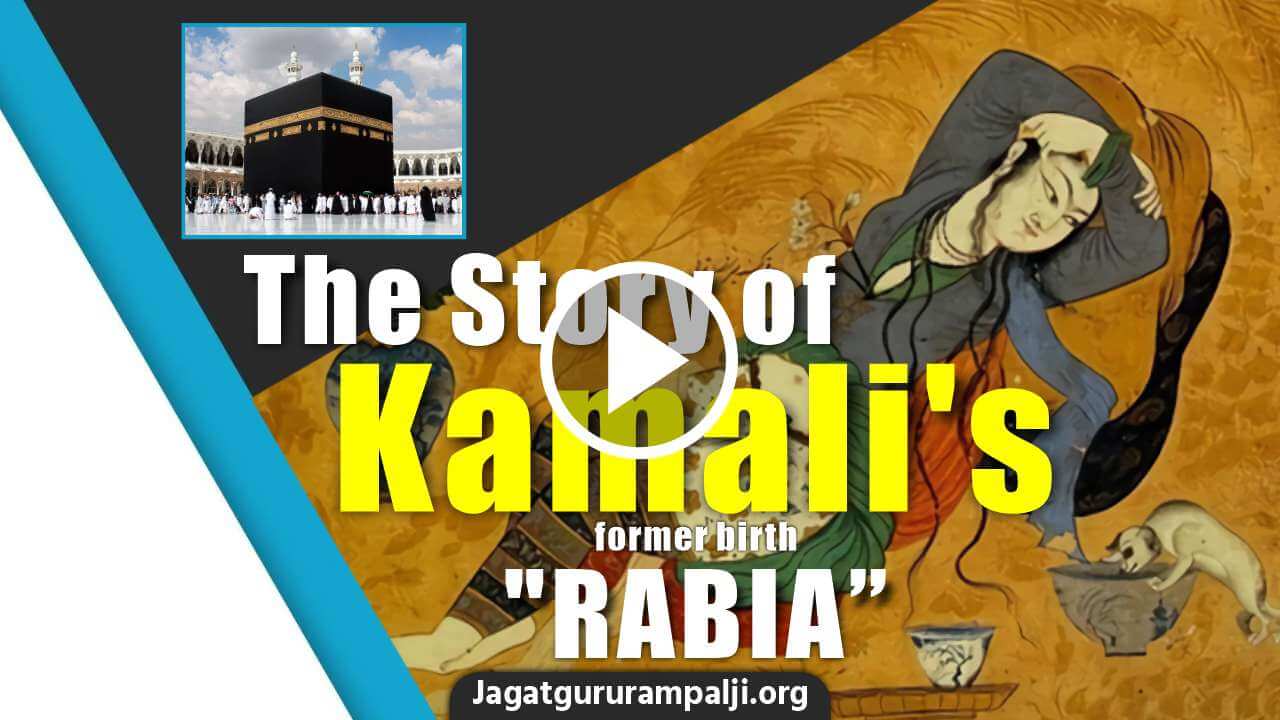 Today, Almighty God Kabir has again come on earth and is blessing souls in the form of great saint Jagatguru Tatvadarshi Sant Rampal Ji Maharaj.
Jeev jo na satsang me aaya,
Bhed na use bhajan ka paaya.
Garib das ji ko bhi baawla btaya,
Bandichhod ko bhi baawla btaya,
Please listen to the spiritual discourses of Saint Rampal Ji Maharaj and understand
Why do we take birth?
Why do we suffer a lot in human births?
How can we get relief from the cycle of birth and rebirth?
What is the correct way of worship?
How will we attain salvation?
Which is the ultimate abode going where the souls do not come back to this world?
Read Gyan Ganga to know the answer to all the above questions. This is a request to all, identify God and get your and your family's welfare done.
---
FAQs about "Rabia Basri: Biography, Marriage, Miracles & Salvation Story"
Q.1 Who was Hazrat Rabia Basri in English?
Rabia Basri, a revered saint, and mystic of the 8th century, resided in Basra, Iraq. Within the Muslim community, she earned profound admiration and is hailed as a preeminent female Sufi. Her devout nature led her to a divine encounter with Almighty Kavir Dev (Allah Kabir), who bestowed upon her the authentic path of worship.
Q.2 Where was Rabia Basri born?
Rabia Basri was born in Basra, Iraq, a predominantly Muslim country.
Q. 3 What is the story of Rabia Basri?
Rabia Basri's story unfolds with her profound devotion to God Kabir. In a forest encounter, she met KavirDev Ji, appearing as 'Zinda Baba,' who imparted knowledge about creation, and worship, and inspired her. After three days, she initiated her practice of true worship for four years. Later, she shifted to her Muslim practices due to a lack of discourses. Despite her parents' insistence on marriage, she resisted, Her parents threatened suicide unless she agreed, so she married an officer but she refused marital intimacy, her husband respected her devotion, remarried, and cared for her as a sister. Around age 55-60, she undertook a Haj pilgrimage, where a selfless act involving a thirsty dog led to a miraculous event, moving the Mosque of Mecca closer to her. Rabia entered the mosque as intended.
Q.4 What were the qualities of Rabia Basri?
Rabia Basri was renowned for numerous qualities, including her profound love for God, selfless service to others, compassion, courage, and unwavering determination in her spiritual pursuits.
Q.5 What did Rabia teach?
Rabia Basri's teachings emphasized that true happiness stemmed from wholehearted love for God, expressed through selfless service to others. She emphasized maintaining faith in God, even during life's challenges.
Q.6 Where is Rabia al Basri buried?
Mansour deeply immersed himself in the worship guided by Gurudev Samsh Tabrez (Shams Tabrizi), openly chanting "Ana'l Haqq," meaning "I am God." Naam-mantras given during initiation is not to be translated, but just to be chanted as instructed by Gurudev, but the contemporary Muslims understood Mansour's intention wrongly and protested him for chanting the Salvation Mantra.
Q.7 How did Rabia Basri attain God and complete salvation?
Although Rabia Basri dedicated only four years to true worship guided by God Kabir, she could not attain salvation in that lifetime. However, her true worship's accumulated spiritual wealth led to multiple human births. Eventually, she rebirth as Kamali, the daughter of Muslim Guru Sheikh Taki, during the period of Kabir Saheb's appearance in Kasi around 600 years ago. After a premature death, Kabir Saheb restored her life, and she lived as His daughter, diligently practicing the true worship that eventually led to complete salvation.
---
Recent Comments
Latest Comments by users
If you have any query regarding the above content, please email us at [email protected], we will try to solve it with proof.