Feeding the Hungry
Published on May 3, 2020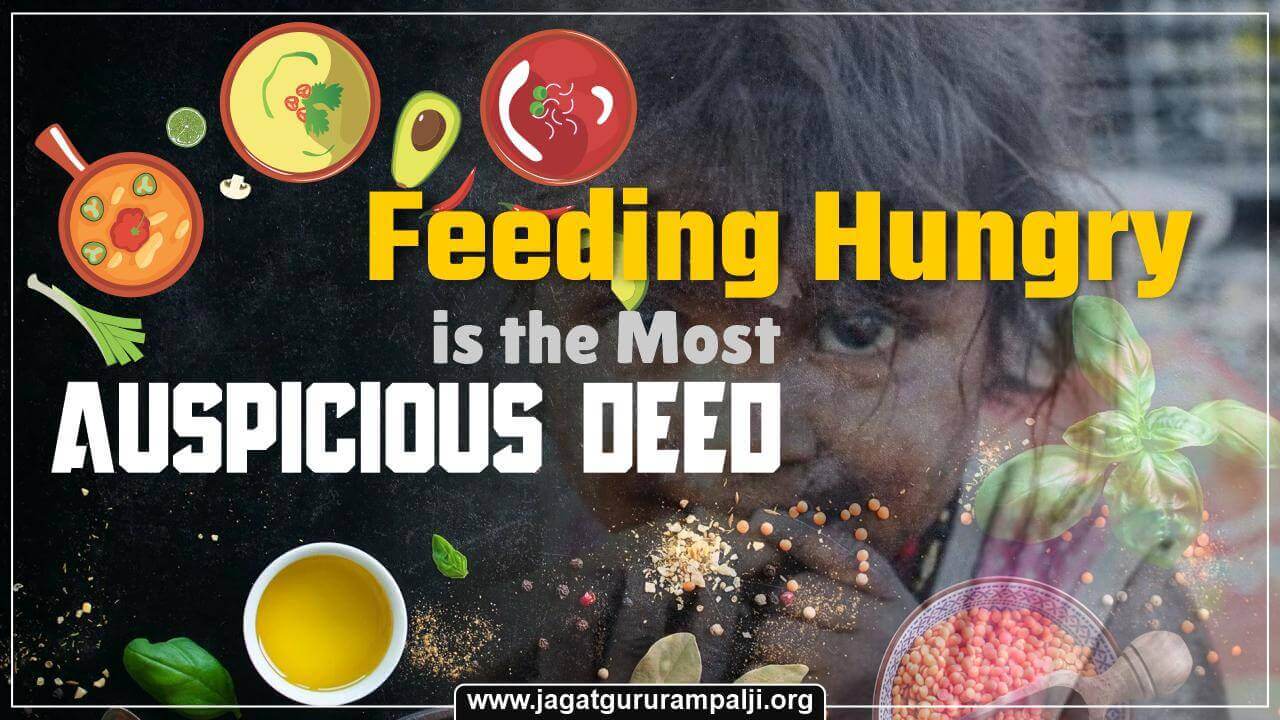 Every currency is useless if there is no food to buy! The glory of food and water can't be undermined and has been mentioned by all pious souls. In this world where there are inequalities in terms of everything possessed, let us play our part in feeding the hungry.
The Biggest of all donations
Providing food to hungry people is the greatest of all donations as God Himself resides in every small grain and food acts as everybody's energy source, thereby acting as the life giver! Let us all play our small role in making sure that nobody stays with an empty stomach.
Ann jall Saheb roop hai, Shudhya trishna jaae.
Chaaron yug parvaan hai, Aatam bhog lagaae!
Listening to the pious spiritual discourses of Saint Rampal Ji Maharaj, removing the hunger of as many as possible is considered as one of the main objectives of all His disciples. Saint Rampal Ji Maharaj has told, that if you provide food to others, you won't ever be deprived of the same because feeding the hungry is one of the best task that you can do as a human.
Chidi chonch bharr le gyi, Nadi naa ghatyo neer.
Daan diye dhann ghate nahi, Keh rhe Saheb Kabir!
Leave aside all the materialistic possessions for which people spend their entire lives, nothing travels with the soul after death, except the currency of good deeds and true mantras! Keeping this point into consideration, "feeding the hungry" has always been the prime task of all the disciples of Saint Rampal Ji Maharaj.
Kahein Kabir pukaar ke, Doye baat lakh le.
Ek Saheb ki bandgi, Aur bhookhon ko kuch de!
Those who give donations as per the directions of the True Guru, who is none other than Saint Rampal Ji, receive manifolds in return! Considering societal welfare as their utmost responsibility, the disciples of Saint Rampal Ji Maharaj play their part by making food available to anybody and everybody who needs the same.
Dete ko Hari det Hain, Jahan tahan se aan.
Naa dia fir maangte firiyo, Saheb sune na kaan!
No one can survive without food! It is because of the divine grace of Almighty God that enough is produced out of these lands. Let us make sure that everybody receives the same too! The disciples of Saint Rampal Ji Maharaj have always played a major role in making sure, that everyone deprived of food, receives the same free of cost.
Every pious soul has always made sure, that no matter how much they possess, much of it is donated and free food is provided to people. As food acts as the body's nourishing source, therefore, the disciples of Saint Rampal Ji Maharaj organize free community meals, where everyone is invited.
Roti hi ke raaj aur paath, Roti hi ke hai gajj thaath.
Roti maata roti pita, Roti kaatein sakal bitha.
Das Garib kahein darvesa, Roti baanto sada!
Free Meals 24*7
Saint Rampal Ji Maharaj has filled the minds of people with His heart mending true spiritual knowledge and His disciples work in unity for the betterment of the society. Free meals are provided in all the Ashrams of Saint Rampal Ji Maharaj 24*7, where anybody can eat as much as they desire.
Jo apne so aur ke, Eke peed pehchan.
Bhukhiya bhojan det hai, Pahaunchenge parwaan!
The Ashrams of Saint Rampal Ji Maharaj set a great example of equality at its best, where everything including food and shelter is provided completely free of cost. There is no inequality on the basis of gender, religion, caste, wealth possessed etc. No matter how many people reach Ashram at a time, there is enough food available for all because this is a live example of the plentiful world, Satlok.
The Greatest Community Meal
Almighty Lord Kabir Himself played the role of a weaver when He descended on earth some 600 years back, but, showed His magnificent power when a fake letter was circulated in His name, promising free food of various types, a dohar (most expensive blanket) and a mohar (gold coin) with every single meal for three days.
At that time, Lord Kabir made another form of His, named "Kesho" and brought everything from the ever happy plentiful land, Satlok. The Greatest Community Meal was made successful by His divine power, where 18 lakh people had food at the same time. It is Lord Kabir Himself, who feeds His children in reality!
Nitt bun kapda dete bhaai, Jaake nau lakh baalad aai.
Avigat Kesho naam Kabir, Taatein tootein yamm janjeer!
The Biggest Community Meal is organized every year on the pious occasion of "Kabir Saheb Prakat Divas", wherein people of the entire world are cordially invited. Welfare of the human community at large, has always been one of topmost objectives of the disciples of Saint Rampal Ji Maharaj, which has been made possible because of His divine grace only.
Fight Against Corona & Disasters
As corona has taken a toll on so many lives, the disciples of Saint Rampal Ji Maharaj work tirelessly to make sure, that people receive meals and ration free of cost. Such are the divine teachings of Saint Rampal Ji Maharaj, which have filled the hearts of people with humanity and generosity.
The disciples of Saint Rampal Ji Maharaj are ever ready to play their part in removing the ill-effects of any disaster, that plays negatively with the precious lives of people. Meals and food products are distributed by the disciples of Saint Rampal Ji Maharaj absolutely free of cost, setting a great example of actually being humane.
With folded hands, we sincerely request all of you, that do listen to the divine spiritual discourses of Saint Rampal Ji Maharaj, which is the only truth in this world full of lies! Come under His divine refuge and land back on the ever happy and plentiful abode.