Who is the Supreme God and why is he the supreme god? Where does he live? The question arises about the real God who is the creator of the whole creation. Does God have supreme power? What is supreme power? Who can change fate, destiny? Who can change the law? Who is above nature? Who can alter the world according to him? Whose powers are unlimited. Who is Supreme God according to Hinduism, Islam? Who is the supreme power of the universe?
He is KABIR. Verses of every religious book have proved that Kabir is the supreme God according to every religion.
Supreme Lord Kabir in Iyov 36:5 of the Holy Bible
Who is Christ's supreme ministry? About Supreme God, it is mentioned clearly in the Orthodox Jewish Bible, Iyov 36:5,- See, El is Kabir, and despiseth not any; He is Kabir in ko'ach lev (strength of understanding)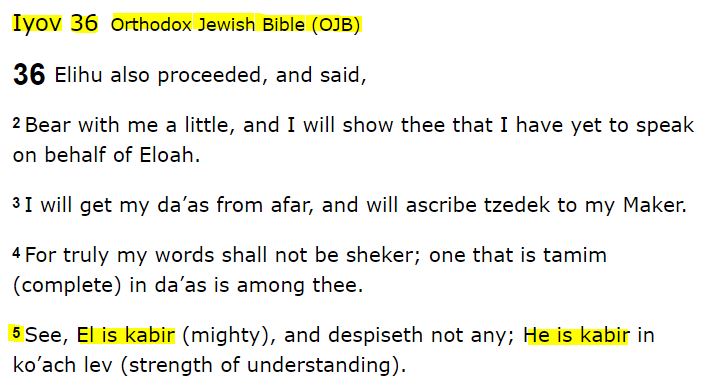 Iyov 36:5 - Orthodox Jewish Bible (OJB)
Which means Kabir is God, but despises no one. In all Bible translations, the word Kabir is translated as "great" or "mighty", whereas Kabir is the name of the Supreme God mentioned in every scripture. He is the father of each and every single soul of humans and animals. Supreme God meaning in Christianity, Hinduism, Islam is one - Kabir. Kabir is the strongest God.
The word Kabir as the name of God, is present in Vedas, Quran, Guru Granth Sahib. Also, you can find out here that God is in form in Hinduism, God is in form in Sikhism, God is in form in Islam. For additional information visit Supreme God in Bible according to Christianity.
So we see that the supreme God is Lord Kabir And not any other. Gods mentioned in the Bible other than Kabir are also God but not the supreme one. So it is clear from the Bible that Kabir is The supreme God. Praise him, Believe in him, and obey his orders. To know the way of worship of lord Kabir you must seek the refuge of an ideal and Tatvdarshi Saint who is Saint Rampal Ji Maharaj these days. Wisdom says that good work should not be delayed and here it is about every breath of life. So without delay, seek the refuge of Saint Rampal Ji Maharaj.