Bodh Diwas of Sant Garibdas Ji Maharaj: Saint Garib Das Ji is not widely known, despite his significant efforts in combating social injustices and promoting the worship of a single Supreme Almighty in our country. This blog seeks to uncover the lesser-known details of his life story. Let us discuss basis the following:-
Sant Garibdas Ji's Birth
Meeting with Almighty Kabir Sahib
Garibdas Ji's Visit to other Spiritual Realms
Saint Garibdas Ji's visit to Satlok
Recording of Sant Garibdas Ji's Couplets
Teachings of Saint Garibdas Ji Maharaj
Miracles by Saint Garibdas Ji Maharaj
Golden Chance: Grand Communal Feast On the Occasion of Saint Garibdas Ji Maharaj's Bodh Diwas
Was Garibdas Ji the Last Sage?
Sant Garibdas Ji's Birth
Balramji, hailing from the village Karontha in Rohtak, Haryana, belonged to the Dhankar gotra Jat and was united in marriage to Rani Devi Ji, the daughter of Shivlal Sihag from Chhudani in Jhajjar, Haryana. Saint Garib Das Ji, born in 1717 AD (or 1774 in accordance with the Hindu calendar), was their only son, born 12 years after their wedding in Chhudani, also in the Dhankhar gotra. Due to Shivlal Sihag's lack of a male heir and his possession of roughly 1400 acres of land and 150 cows, Saint Garibdas Ji's parents lived with him to care for the land and livestock. In addition to tending to the cattle, Saint Garibdas Ji, like other cowherds, would also take them to their farmland, referred to as Nala, for grazing.
Meeting with Almighty Kabir Sahib
During his routine cow grazing on the Nala farmland, Saint Garibdas Ji encountered Supreme Almighty Kabir Saheb in 1727 at around 10 am. Disguised as a Muslim Saint (Zinda Baba), Kabir Saheb walked past them and when the cowboys asked Him about His village, He informed them that His village called Satlok was 16 Shank Kosh away. However, the uneducated cowboys assumed it was just 16 kosh (48 km) from there and invited Him to have lunch. Kabir Saheb declined, saying He had already eaten, but the cowboys insisted He at least have milk. Kabir Saheb agreed on the condition that they get the milk of a maiden cow.
Upon hearing this, they remarked to the Saint that it seemed he had no interest in drinking milk, leading them to question how a young cow could possibly produce any. In response, Kabir Saheb instructed them to bring a maiden cow and a clean pot for milking. A ten-year-old Saint Garibdas Ji then brought his beloved one-and-a-half-year-old cow, expressing his doubts about the cow's ability to produce milk as it had not yet given birth. Kabir Saheb directed him to place the pot beneath the cow's udder and patted its back, causing the udder to grow long and milk to flow into the pot until it was full.
Kabir Sahib explained that the milk had come from His village Satlok (eternal place), and proceeded to drink half of it while offering the remaining half to the others. However, the older cowboys refused to drink it due to their uncertainty about Kabir Saheb's caste and the widespread practice of untouchability at the time. Saint Garibdas Ji, on the other hand, joyfully drank the remaining milk, considering it a rare opportunity to taste the nectar. As they sat together beneath a tree in the farmland, Kabir Saheb proceeded to share knowledge about Satlok and the creation of nature with Saint Garibdas Ji.
Garibdas Ji's Visit to other Spiritual Realms
Saint Garibdas Ji expressed doubt upon receiving all the information provided by Kabir Saheb and requested to witness Satlok. God Kabir Saheb then gave Saint Garibdas Ji initiation and instructed him to recite mantras to guide his soul to Satlok.
Upon the departure of Saint Garibdas Ji's soul from his physical body, Kabir Saheb led him on a journey through the realms of Brahma, Vishnu, and Shiva, followed by a visit to the domain of Lord Indra in heaven, and finally a trip to hell. After this excursion, they arrived at the court of Dharamraj, where all souls must account for their worldly deeds and are thus assigned to either heaven or hell. Upon entering the court, Dharamraj stood with his hands folded in respect, prompting Saint Garibdas Ji to realize that the Sage was indeed of great authority, given that even the keeper of souls' accounts paid homage to Him.
As they moved forward, they passed through the tenth door and arrived in the area of Brahm, also known as Satan. Here, they witnessed numerous souls writhing in agony on a scorching hot rock known as taptshila. It was here that Kabir Saheb revealed to Saint Garibdas Ji that the supposed formless God he spoke of was actually Satan - a crooked being with selfish intentions who sought to ensnare individuals in karmic actions.
After passing through the eleventh door, they reached the realm of Akshar Purush - the owner of seven Shankh universes. As they approached, Akshar Purush manifested a form with 10,000 arms. Kabir Saheb revealed to Saint Garibdas Ji the vastness of Akshar Purush's universes before continuing on their journey.
Saint Garibdas Ji's visit to Satlok
Moving forward, they arrived at Kabir Saheb's everlasting realm called Satlok. As they stepped into Satlok, Saint Garibdas Ji was struck speechless by the magnificence of the place. There, he beheld the Supreme Almighty, who was seated on a throne emitting a radiant white light and adorned with sparkling diamonds and other valuable gems.
The Supreme Almighty was resplendent and magnificent, adorned with a luminous human-like form, emanating a radiant glow equivalent to millions of suns and moons combined. At that moment, Saint Garibdas Ji observed the effulgent God rise while the sage beside him sat on the throne and was fanned by the effulgent Almighty. As Saint Garibdas Ji attempted to comprehend the scene, the effulgent God merged into the body of Kabir Saheb, revealing Himself as the Supreme Almighty. Witnessing this wondrous occurrence, Kabir Saheb urged Saint Garibdas Ji to return to earth as his physical body was about to be cremated, with people believing him to have passed away.
Kabir Saheb was asked by Saint Garibdas Ji to grant him a place in Satlok, but Kabir Saheb replied that he must first awaken his fellow humans in the world to embrace genuine spiritual worship, which has been embedded in his subconscious, and ultimately attain redemption.
Recording of Sant Garibdas Ji's Couplets
After returning to earth, Sant Garibdas Ji's mind was filled with genuine spiritual knowledge, which he began sharing as soon as he arrived.
Gareeb, prapattan wah lok hai, jahan adli satguru saar l
Bhakti het se utare paaya hum deedar ll
Aisa satguru hum milya, alal pankh ki jaat l
Kaaya maaya na wahan, nahi panch tatv ka gaat ll
In Chhudani, three years later, another Kabir Saheb follower Sage Gopal Das came. A relative of him asked Gopal Das to examine 13-year-old boy named Garibdas Ji, whom they believed had become mentally unstable. When Gopal Das heard Garibdas Ji reciting couplets that revealed knowledge about God Kabir, he was amazed.
Hum Sultani Nanak taare, Daadu ko updesh diya l
Jaat julaha bhed na paaya, woh Kashi maahi Kabir hua ll
Anant koti brahmand ka, ek rati nahi bhaar l
Satguru purush Kabir hai, kul ke sirjanhaar ll
He then requested Sant Garibdas Ji to recite all of these couplets, which he would record. It took three days of effort, but finally, Sant Garibdas Ji agreed, and the result was the creation of Sadgranth Sahib.
Teachings of Saint Garibdas Ji Maharaj
Sant Garibdas Ji Maharaj did not shy away from openly denouncing the religious rituals of both Hindus and Muslims, including practices like Shraadh Puja, halal, sacrifices, untouchability, and the act of bathing in rivers to absolve oneself of sins.
Miracles by Saint Garibdas Ji Maharaj
Many miracles are attributed to Saint Garibdas Ji Maharaj, including bringing River Ganga to Chhudani village, revealing to a disciple where his deceased parents were reborn and that they were still starving despite his performing Shraadh Puja. However, the most significant of these was his ability to live for 35 years in Saharanpur Uttar Pradesh after his first death in Chhudani, only to die again at Bhumar Saini's place. A memorial to this event still exists in Saharanpur, Uttar Pradesh.
Golden Chance: Grand Communal Feast On the Occasion of Saint Garibdas Ji Maharaj's Bodh Diwas
Garib, shabd svaroopee utare sataguru sat kabir.
daas gareeb dayaal hain dige bandhaavain dheer.
Garib, sab padavee ke mool hain, sakal siddhi hai teer.
daas garib sat puroosh bhajo, avigat kala kabir.
A three-day grand program is being organized on 2-3-4 March 2023, on the Bodh Diwas (Realisation Day) of respected Saint Garibdas Ji Maharaj, in 10 Satlok Ashram's across country under the auspicious guidance of Jagatguru Tatvadarshi Saint Rampal Ji Maharaj.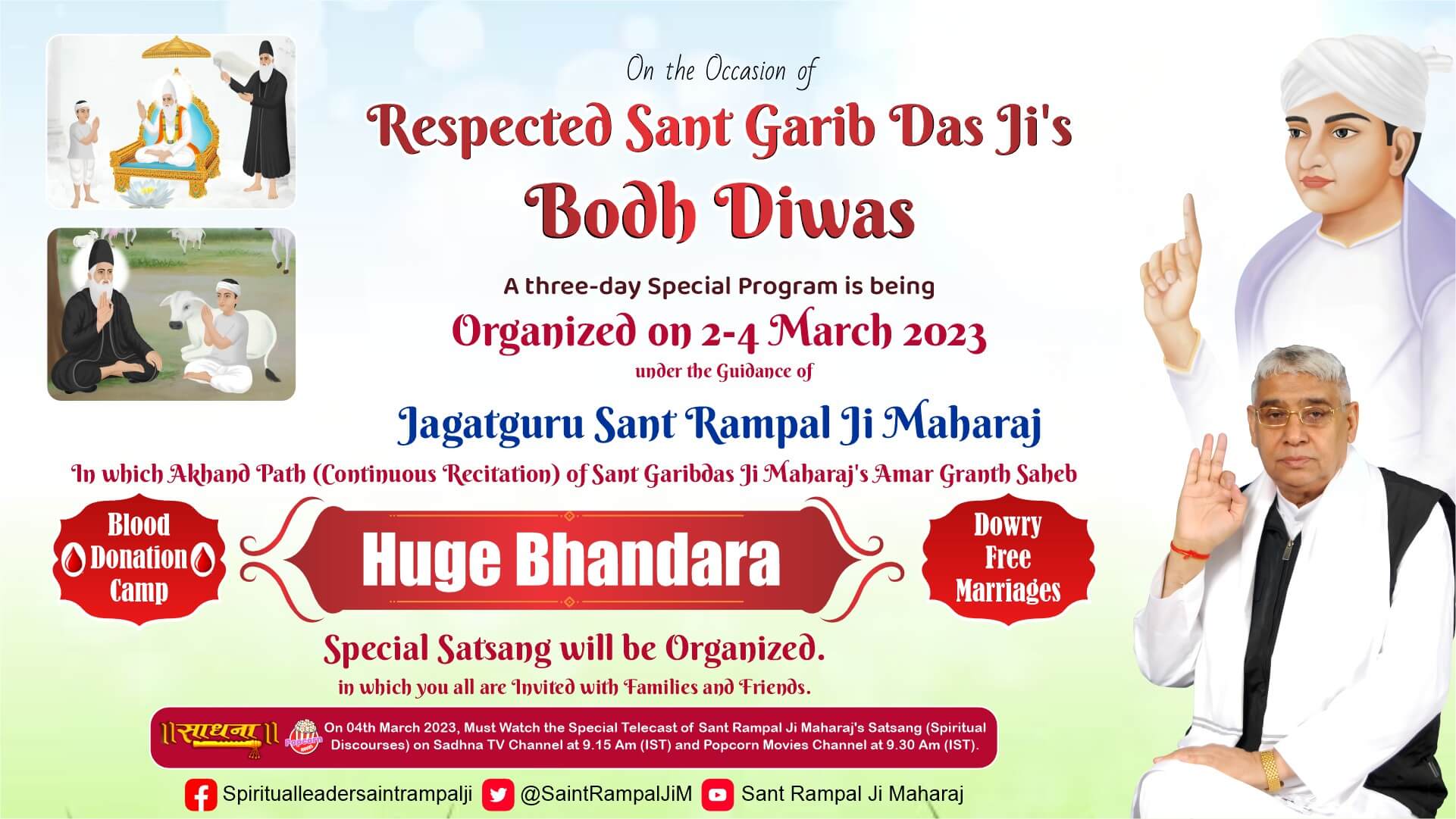 You and your family are warmly invited to attend a variety of magnificent events in honor of this special occasion. These festivities include a three-day Akhand Path, a communal feast, and a spiritual sermon ceremony. Please join us in celebrating this auspicious occasion with joy and merriment.
Venues are:
Satlok Ashram Mundka (Delhi)
Satlok Ashram Rohtak (Haryana)
Satlok Ashram Kurukshetra (Haryana)
Satlok Ashram Bhiwani (Haryana)
Satlok Ashram Dhuri (Punjab)
Satlok Ashram Khamaano (Punjab)
Satlok Ashram Sojat (Rajasthan)
Satlok Ashram Shamli (Uttar Pradesh)
Satlok Ashram Betul (Madhya Pradesh)
Satlok Ashram Janakpur (Nepal)
The live telecast of this grand program will be on March 04, 2023, from 09:15 AM on Sadhna Tv and from 09:30 AM on Popcorn TV.
You can also watch the live telecast of this special program on our social media platforms which are as follows:-
Facebook page:- Spiritual Leader Saint Rampal Ji Maharaj
Youtube:- Sant Rampal Ji Maharaj
Twitter :- @SaintRampalJiM
Was Garibdas Ji the Last Sage?
No, actually, the guru lineage originated from Saint Garibdas Ji. At present, the thirteenth guru is providing initiation. The divine mantras of salvation, which were bestowed by God Kabir Saheb, are being disseminated to humanity by Jagatguru Tatvdarashi Sant Rampal Ji Maharaj from Barwala, Hisar Haryana. It is a kind appeal to the global populace to seek refuge in Saint Rampal Ji Maharaj and achieve deliverance. To attain true worship and know how to attain true Almighty, kindly listen to the Spiritual discourses by Sant Rampal Ji Maharaj .
FAQ
Who was Saint Garibdas Ji?
Ans: Sant Garibdas Ji Maharaj was a spiritual leader and reformer. He was born in 1717 AD in a family of Dhankhar Jats in Chhudani, District Jhajjar, Haryana, India.
When is the Bodh Diwas of Garibdas Ji Maharaj?
Ans: According to the Hindu calendar Vikram Samvat 2079 is the Bodh Diwas (Realisation Day) of Sant Garib Das Ji on Dwadashi Tithi of Shukla Paksha of Phalgun month which happens to be March 4th, 2023, according to the Gregorian calendar.
When was Garibdas Ji born?
Ans: Garib Das Maharaj was born on the day of Baisakh Purnima in Samvat 1774 (1717) to Chaudhary Balram Dhankhar.
Who is a truly enlightened saint in India?
Ans: Jagatguru Tatvdarshi Sant Rampal Ji Maharaj is the truly enlightened saint in India
Is it necessary for mankind to make a guru?
Ans: Yes, It is very important to have a guru.